Seattle Wedding DJ Services
Seattle Wedding DJ Services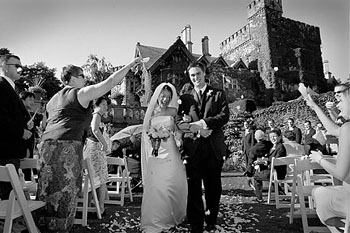 As Seattle Wedding DJs with superior dance knowledge, we provide the right music at the right time. For example, we know what to play when your grandfather requests a Foxtrot. Your wedding might be the most important party you ever throw; guests are excited and anticipate being able to celebrate this joyous occasion through traditions, socializing, music and dance. If you would like, we can also help you plan and practice for your Wedding Dance. Music and dance is such an integral part of wedding receptions today that it takes a DJ who not only knows the music, but also knows social dancing, and we know social dancing better than any other wedding DJ in the area.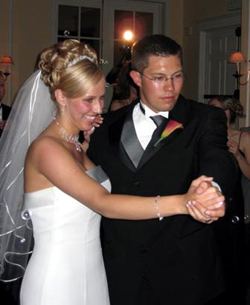 We will work together with you to coordinate and implement the logistics of the ceremony and reception flow (when to make announcements, when to play music, communication with a wedding coordinator, etc.). There is a lot of coordination that goes on behind the scenes and we like to think we excel at the coordination of party logistics. Most importantly, I, Spencer, am your DJ; I do not subcontract out the DJ services to hired help (as is popular to do these days in the industry). As far as our dj equipment goes, we have a state-of-the-art sound system that brings out the richness and texture in the music we play (Mackie SA1521 active speakers). Our PA system includes a high end wireless microphone for important toasts and announcements. In addition, as professional dance instructors and we are available to teach at your reception should you want to get the party started (see below). Our assortment of wedding reception party music is vast; depending on what you would like, we can play just about anything including salsa, swing, funk, jazz, country, and pop music from the 70s, 80s, and 90s, as well as newer songs that are currently popular. Of course we provide professional emcee services for all of your important announcements.
Getting Others to Dance at Your Reception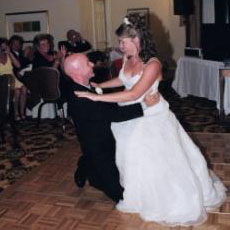 Will anyone get up to dance at your wedding reception? An introductory Partner Dance lesson or Party Dance lesson is a great way to get people out of their seats on the dance floor.
Seattle Wedding Vendors
Elizabeth and I worked with some wonderful wedding vendors, so we thought we'd compile a list. If you know of an outstanding vendor, please email their information to Seattle Wedding Vendor List. We'll gladly pass this valuable information on to our visitors.
Cakes

Creative Cakes - We found one of the best, in our opinion, at Creative Cakes in Kent. Contact Robbi Broussard, 253.859.2812.

Caterer

Whole Foods Catering - Very reasonably priced and absolutely delicious!

Wedding Coordinator

Event Success - Jacky was our wedding coordinator. We highly recommend her.

Florist

Creative Colors - Patti Schmitz really knows her flowers. We were thrilled with the outcome! 425.822.0920.

Officiant

Carol Schapira - Carol did a great job of co-officiating our wedding.

David Reed - David took a personal interest in our wedding and did a great job co-officiating.

Videographer

Smilson Video - Edd & Diane were nothing short of terrific to work with! edd@smilson.com
Availability & Reservations
Availability is on a first come first served basis. To discuss the specifics of your party or to reserve a date, call us at 425.803.0256 or email us at Spencer@ResilientSpirit.com.