DJ Seattle
Parties with Dancing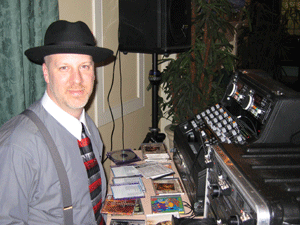 We specialize in parties with dancing, getting the crowd on the dance floor having a good time. This includes theme party dancing: Line Dancing at Hoedowns; Swing Dancing at 40's night parties or Sock Hops; Salsa at Latin Night parties; Waltz at Black & White galas; Party Dancing at Weddings. If you'd like to add some extra spice to your party, have us lead a dance that fits your party theme (Line Dancing, Swing, Salsa, Country Western, Ballroom) at no additional cost! Often times, leading a dance, whether it be the Cha Cha Slide or Electric Slide is just what the party needs to get it kick started.
The fact that we are professional Seattle DJs as well as dancers is not the only thing that differentiates us from other DJs in the area. We are knowledgeable, caring and resourceful DJs who work as a team with you to create the party of your dreams. Meeting with you before your party gives us an opportunity to get to know you and your music preferences. We invite feedback from you and your guests during the party in order to make sure your needs are being met. We pride ourselves on being able to deliver exactly what you have envisioned.
Leading a Party Dance
It's still surprising to see the effects of leading a party dance such as the Cha Cha Slide or Electric Slide at an event. The energy of the party usually increases dramatically and guests become noticably more engaged and excited. It seems like a simple activity to pull off (just put on the song...), but with a dance instructor leading the group, the guests have the confidence it takes to participate and have fun. We'll make it fun!
Hosting a Successful DJ Dance Party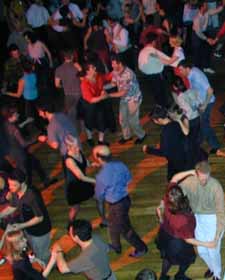 Another idea for getting the crowd involved is to host a dance party. Here is a basic outline of how the "DJ Dance Party" package works. We begin by giving a brief demonstration of the dance we are about to teach. The lesson can be given in any number of dance styles (including Line Dancing, Salsa, Swing, Two Step, Waltz, Line Dancing, and Ballroom). Salsa & Swing are currently our most popular introductory Partner Dances. We are also available to teach Party Dances. After the demonstration, we give an introductory dance lesson to the guests. The duration of this lesson is up to you; in our experience 30 minutes to one hour works best. After the lesson, the guests are excited to try their newfound dance skills on the dance floor. We are available to answer questions that arise regarding specific dance steps and dance songs, keeping the fun and momentum of the party going throughout the evening. With the many benefits of hiring us to be both your Dance Instructor and your DJ, we definitely provide more than your average Seattle Wedding DJ.
Occasions
Following are some types of events that our DJ Dance Party works tremendously well for:
Weddings
Private Parties
Corporate Parties
Anniversaries
Birthdays
Graduation Parties
Church Socials
Theme Parties
Reunions
School Dances
Dance Themes
Following are some types of themed dance events that we have done in the past:
Line Dancing Party
Hoedown
WWII 40's Swing
Sock Hop/50's Swing
Latin/Salsa Party
Ballroom Dance / Formal Ball
New Year's Formal
Dance Instruction
Spencer & Elizabeth are regularly hired to give dancing demonstrations, teach dancing to guests, and personally interact with the guests at private events. We are often complimented on our professionalism as well as our relaxed, approachable style.
Availability & Reservations
Availability is on a first come first served basis. To discuss the specifics of your event or to reserve a date, call us at 425.803.0256 or email us at Spencer@ResilientSpirit.com.
About Resilient Spirit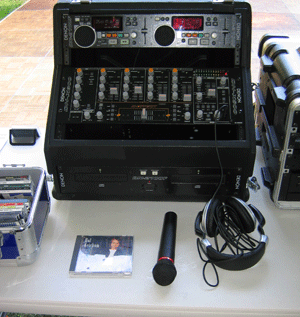 Resilient Spirit provides professional DJ services for a range of special events including, but not limited to, weddings, anniversary parties, church and corporate functions. Offering an introductory dance lesson as part of your event encourages guest participation and makes your event stand out from the rest. We specialize in events with dancing. In order to dance with confidence, we offer Private Lessons and Group Classes.
Party Dancing is one of the best ways to get people out on the dance floor. People of all ages are able to enjoy Party Dancing. One of the best features of Party Dancing is that you do not need a partner!
Partner Dancing creates the opportunity to share and feel the mood of the music with another person on the dance floor. It's a lot of fun and can be surprisingly therapeutic! Our beginning dance classes require no previous dance experience and no partner is necessary. All of our classes emphasize building a solid foundation from which creativity, improvisation and individual style can grow and flourish.
We welcome your feedback. If you have any comments, questions, or suggestions, we'd love to hear from you. Please send them to comments@resilientspirit.com.
Enjoy!