Hatha Yoga (Anusara-style)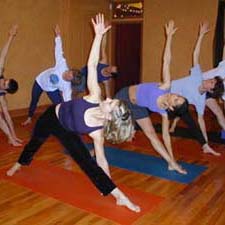 Anusara-style Hatha yoga is a powerful, openhearted practice that increases stamina, strength, flexibility, endurance, and overall health. Hatha yoga is a highly effective tool for improving physical alignment and energy flow. It is an opportunity to cultivate greater awareness of ourselves while emphasizing the union of mind, body, and spirit.
Classes include poses (asana), flow of poses (vinyasa) and brief periods of meditation. Some classes may also include pranayama, or breathing practices. Students are encouraged to be adventurous and discover their edge while acknowledging their limitations and increasing self-compassion. Classes are taught in a supportive, non-competitive environment.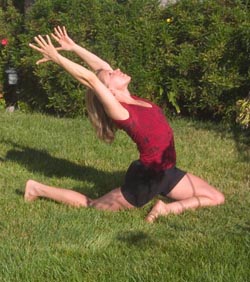 Beginning classes require no previous experience; all fitness levels are welcome. Students are encouraged to come on an empty stomach. Please arrive at least 5 minutes before class is scheduled to begin. Wear comfortable clothes that are not baggy around the knees (shorts and a t-shirt or leotard and footless tights are good options). All props are provided.