DJ Equipment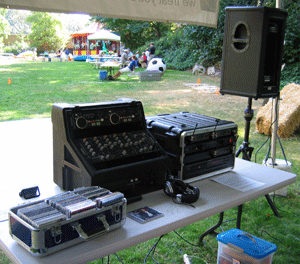 We pride ourselves on offering superior sound quality. Our sound system features state-of-the-art Mackie SA1521 two-way active speakers, professional Denon audio components and Audio-Technica professional UHF wireless microphones. Guests regularly comment on our excellent sound quality.
For providing music in smaller rooms and private homes, we recommend using our Fender Passport sound system (not shown).
Music
Through direct communication with your DJ, you will be able to specify exactly the type of music you want played for your party. As professional dance instructors, we are uniquely skilled at customizing the music to fit your party's needs. We have an extensive selection of dance music including, but not limited to, Salsa, Swing, Country Western, 40's, 50's, 60's, 70's, 80's, 90's and today's hits. For more information on Swing, Salsa, Two Step or West Coast Swing music, click on the links below:
The local area that we serve includes the Eastside (Medina, Clyde Hill, Bellevue, Redmond, Kirkland, Mercer Island, Woodinville and Issaquah, WA among other cities). We provide DJ services throughout Seattle and the greater Puget Sound area.
Availability & Reservations
Availability is on a first come first served basis. To discuss the specifics of your event or to reserve a date, call us at 425.803.0256 or email us at Spencer@ResilientSpirit.com.
About Resilient Spirit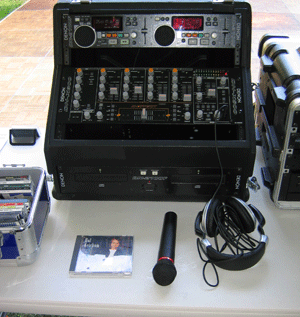 Resilient Spirit provides professional DJ services for a range of special events including, but not limited to, weddings, anniversary parties, church and corporate functions. Offering an introductory dance lesson as part of your event encourages guest participation and makes your event stand out from the rest. We specialize in events with dancing. In order to dance with confidence, we offer Private Lessons and Group Classes.
Party Dancing is one of the best ways to get people out on the dance floor. People of all ages are able to enjoy Party Dancing. One of the best features of Party Dancing is that you do not need a partner!
Partner Dancing creates the opportunity to share and feel the mood of the music with another person on the dance floor. It's a lot of fun and can be surprisingly therapeutic! Our beginning dance classes require no previous dance experience and no partner is necessary. All of our classes emphasize building a solid foundation from which creativity, improvisation and individual style can grow and flourish.
We welcome your feedback. If you have any comments, questions, or suggestions, we'd love to hear from you. Please send them to comments@resilientspirit.com.
Enjoy!